Another local business I am impressed with: Appliance Services in the NB Mall. 
When I called them up the friendly admin lady didn't muck around and stated very clearly what their pricing looks like.  So I knew what to expect. 
And then she asked: "Would you like someone to come round today or tomorrow?" Ah, music to my ears. 
When delightful Tim Stockman then came round to check out the problem with our washing machine he figured out an easy way I could deal with the issue. 
I don't know why I spent years of being annoyed with that frickin' machine....
Thanks so much to Geoff from Appliance Services in New Brighton. 
I cleaned the oven yesterday ready for the huge cookup for Christmas, and managed to break the thermostat wire off the back of the oven (seems without this the oven just keeps on heating and heating!) anyway rang the local Appliance Services, and he was here in half an hour, all fixed and ready to go. 
Very relieved I can cook the turkey. 
Stick with the locals.
I've just had very positive dealings with Tim and the Appliance Services team and am now the proud owner of a second hand new to me dishwasher that works beautifully. 
I didn't even realise they were in New Brighton.  
You provide a prompt, friendly and very reasonably priced service and I'll be recommending you to others.
Thanks guys.  
I was very happy with the service - the technician who came and fixed my washing machine did a good job and solved the problem it in no time.
He was very helpful answering my questions and also their office staff is very obliging.
I also bought a fridge freezer off them and they delivered it the same day as I live close by their shop.
Friendly, efficient service.  Have recommended to friends and family.
Friendly helpful team, great service.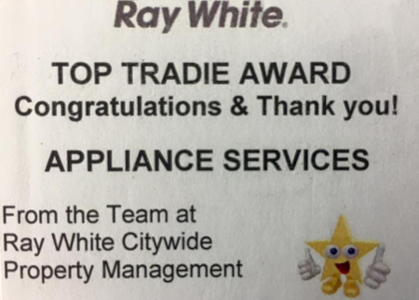 Ray White, Citywide Property Management
We bought a refurbished F&P washing machine from Appliance Services 6 months ago and were impressed with the friendly helpful service at the time.
The water pump went on the same machine last weekend. We sent an email and received a phone call by 8.30am on Monday, repair person was at our house within a few hours and repaired the machine which is now good as new.
No charge as the machine had a one year warranty. So impressed with the response!
Everyone we have dealt with has been great. Would certainly recommend Appliance Services.
Calamity, washing machine not working. Rang Tim Stockman. Explained the situation. Prompt response.
We were pleasantly overwhelmed at the professional performance and attitude of Tim. Tim replaced the defective electronic block and board and now the unit has more functions available than when we purchased it new 8 years ago. Highly recommended, pity Appliance Services had to move away from New Brighton and into the city centre.
Husband says 'nothing better than a satisfied wife and fully functional washing machine.'